COME JOIN US FOR THE 2018 SEASON. (02/14/2018) + Read More

SEASONAL SITES FOR 2018 SEASON (02/14/2018) + Read More

About Us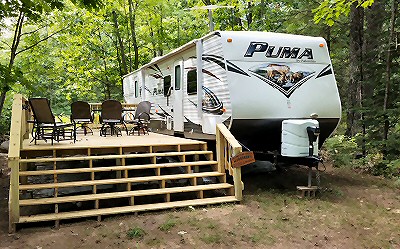 Let us introduce ourselves. We are Al and Kathy Reinke and we will be your hosts at Moen Lake Campground.

We recently purchased Moen Lake Campground which had been closed for the past several years. We began pursuing this dream in July of 2013 and as of March 2014 the dream has come true. This campground has a long history in the Rhinelander area and was a preferred camping destination. We are in the process of getting the campground back up and running 100%. Many amenities are already on their way with many, many more amenities to come.

Moen Lake Campground is situated on 52 beautifully wooded acres on the Moen Lake Chain. This chain consists of 5 lakes and is also a class "A" rated Muskie Lake. All of our campsites are extremely spacious and each site is surrounded by mature trees and plants.

We offer 91 campsites all with water and electric. We have designated areas for seasonal camping and separate areas for overnight camping. There are also 2 cabins available for rent, these consist of 2 one bedroom cabins. We also have boat slips also available for rent daily or by the season.

We also offer honey wagon services for a fee and sell firewood at the office to be used during your camping experience, along with ice.

There is plenty to do year round such as taking in the great fishing, swimming, boating, hiking, tubing, skiing and various other watersports.

You can enjoy the waking up of Nature in the Spring, the beauty of a warm summer night in the Summer, the changing of the colors in the Fall and the snow in the Winter. In the winter rent one of our cabins and enjoy the great snowmobiling or skiing that the area has to offer. The snowmobile trails run across the chain of lakes and right up to our front door. Also the ice fishing is great in this area.

You can't help but relax as the air is filled with the natural sensations of camping: The flickering light of a campfire and the sounds of people laughing and having fun as they share stories of an exciting time at Moen Lake Campground.

We look forward to seeing you this summer at Moen Lake Campground.